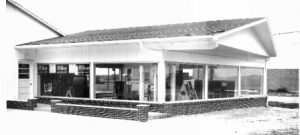 In the spring of 1953 Ray Noonan Sr. announced that he would open a new business; Cascade Lumber Company. Located on the eastern edge of Cascade first known as "Your yard on the Highway" Cascade Lumber officially opened on May, 19 1953 and would serve the townspeople and farmers of the surrounding area. In those days lumberyards sold mostly lumber, fencing, cement, and coal; but little else. But Ray Sr. had other plans.
Believing that his customers would appreciate the convenience that "one stop" shopping would provide, Ray Sr. also carried nails, gate hardware, barn track, locks, tools, and other related items that his customers would need to do the "complete job". As hard as it is to believe today, but in those days customers would often just purchase lumber at the lumberyared, the nails and bolts at a hardware store, and locks or hinges at a furniture store. It wouldn't be long before Cascade Lumber who soon became a source of paint and related sundries as well as home cleaning supplies.
Not satisfied with just selling the material, Ray Sr. then decided that labor would be a key ingredient in securing more construction projects. Already working with some of the local carpenters in the area, he realized that real growth would result with his own in house carpenter crew. This gave way to larger jobs and not only kept some of his employees during the slower winter months, allowed components of projects to be build ahead and give the crew a head start when the spring building season began.
It was about this same time that Ray Sr. embrace two seperate product lines that would significantly increase Cascade Lumber's sales growth.
Attending the National Farm Builders Show in Chicago, Ray Sr. met up with a manufacturer of colored steel panels who was operating in Indiana. At the time agricultural panels were primarily galvanized and not necessarily attractive. Realizing that this item would not only be attractive, but highly functional, Cascade Lumber became one of the first distributors of colored steel in the Midwest west of the Mississippi River. The results of this decision led to the construction of a large warehouse capable of unloading semi trucks with an overhead crane, and floor space capable of storing inventory that could be cut to order as well as packaged special order jobs of steel and color matched trim.
At the same time, Ray Sr. realized that there was a segment of customers who were making purchasing decisions for the home, but were almost completely overlooked by the building material supplier: the female shopper. Taking this knowledge, he decided that he would need to make the necessary changes to his retail store to attract this significant audience. Already successful in attracting customers to a very popular paint department, a full line floor covering department and showroom was added to the retail store. Staffed with an employee who was not only knowledgeable, but attentive of the needs of this important consumer. And like the carpenter crew, professional installation was provided for the products supplied.
As Cascade Lumber Co moved through the 1970's its customer base continued to grow. At the same time American agriculture began to experience unprecedented change and growth, largely due to the ever increasing value of farmland. Sensing an opportunity, the "packaged building" concept of providing the ag customer with a "Turn Key" product took shape. By leveraging pre engineeered roof trusses built by Cascade Lumber Co's own truss facility, a direct source of colored steel, access to competively priced related products, along with a group of skilled labor for erection of farm buildings; Circle C Building Systems was born. Sales was handled by a network of salesmen, each responsible for their own territory.
The 1980's were a challenging time for Cascade Lumber Company, yet the company survived the national downturn and the following period known as the "Farm Crisis." By the end of the decade Cascade Manufacturing a division of Cascade Lumber made the correct decision to market their prefabricated building components and engineered wood products on a wholesale basis . While remaining part of Cascade Lumber it operates independantly as a seperate DBA and is a valued supplier to Cascade Lumber. For more information visit http://www.cascade-mfg-co.com.
Beginning with changing the home center's entrance to a west facing exposure, Cascade Lumber begin to meet the challenge presented by a vastly improved building economy during the 1990's by hiring talented and capable people along with an improved delivery system. Building on its reputation as "the place to go" when building or remodeling, the sales and design departments were greatly enhanced. The hiring of Kevin Schockomoehl as store manager greatly improved customer service as well. As we entered the new millenium we and reconizing that customers' needs continue to change; existing departments were enlarged and a few new departments were added. A rental department provides both the homeowner and professional with first rate tools and equipment, and seperate installed sales department was formed to take on all sizes of building and service projects that enhance and meet the challenges of growing customer base.
By the early 2000's we improved our delivery capability with a boom truck and jobsite trailer which along with our existing vehicles improved our ability to have our product on time to every jobsite. In 2007 we completed the construction of a 16,000 square foot retail warehouse. Currently we are looking into expanding our warehousing capability to allow even more growth to our building materials, millwork, cabinet, and flooring departments.
Not fully satisfied to be visable to our local customers it was only a matter of time that we would reach out through social media. Joining Facebook allowed us to connect to an ever expanding audience. Currently we have nearly 800 "Likes" on Cascade Lumber Company Facebook page and continue to enhance our web presence.
Having reached a milestone of 60 years in business in 2013, we continue to build stronger relationships with our vendor partners, increase our knowledge, and to provide better products and service work on the products we sell. Cascade Lumber has been recognized and appreciated by many of its vendors for its innovations in marketing and outstanding customer service. Often times our staff is asked to advise the companies they we business with.
Through our more than sixty years of existence, we know that we are only as good as our customers' percieve us to be. Therefore we maintain a policy of never forgetting where we came from and who it was that got us to where we are. We believe that a family business is at its best when it treats not only its customers, but its employees like family. A belief that employees are our greatest asset,being able to hire talented people, being located among some of the world's finest people, and an abiding faith that we owe so much to a power greater than ourselves allows Cascade Lumber to succeed. That's why we say: Come build your future with us.